#IBDPartner
To put it at the most basic level we use MarketSmith scans  to effectively shorten the time it takes us to find candidates for trading.   We usually do this via two strategies.  One is to scan for specific criteria — such as our China scan last week that netted some great winners such as current position in ZTO TCEHY.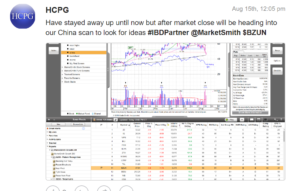 ZTO entry post this scan last Thursday was a riding momentum back from support reversal — meat and potato HCPG type trade — long 18.9 zone.  We have 1/4 left from swing .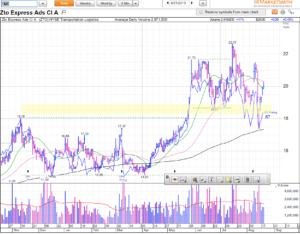 TCEHY  long under 42 on that bounce on weekly 40 level last week — also have 1/4 left from swing.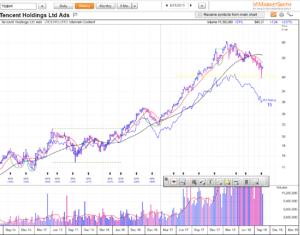 BILI we didn't go long but some of our subscribers did from the scan last week, up currently 16% from our post.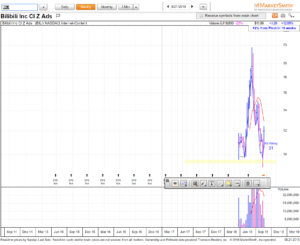 The second way we use MarketSmith scans is to narrow down patterns — instead of blanket scans according to our own criteria, we use their criteria — mostly "Near Pivot" which we've discussed before, and for the following "Tight Areas":
VRTX into interesting zone right now and if it can get over 180 will attract even more momentum trader eyes.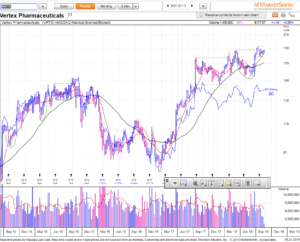 MA we got long yesterday on this tight area looking for lift-off but so far it's still in basing mode.  Very close to our stop and quite possible it hits it today, and then do we delete? No, not unless it breaks down.    It's not uncommon for us to get it right on second try.  Don't worry about being right, wrong, getting revenge.   There's no room for ego in this job.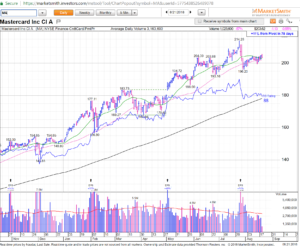 ROKU good example.   We had a decent swing trade in it before exiting on trailing stop (remember the gap up post earnings 52 idea from two weeks ago).  It set up again, we tried it last week but got scratched out on Friday.  We put it back in our newsletter on the weekend and last night with specific 58 breakout alert.   Today it offered a great quick 2 point trade and if it can close near 59 we would swing a partial.  Max stop 58 break.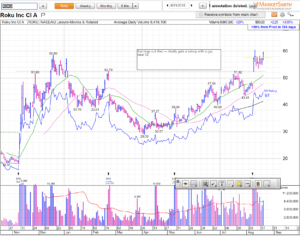 Quick takes: be versatile, especially in the summer.   And if it stops you out the first time but stock does not breach the pattern, don't delete it and keep it on watch-list.   We've been trading for over 20 years and writing this newsletter for over 12 years.  We've had countless interactions with traders — and the most noticeable pattern of all is that if you can't check your emotions in this job you will not make it.
Everything else is infinitely easier.  Risk management?  Trade Ideas?  Easy, easy.
Patience to wait for right time to strike? Emotionally grounded enough not to engage in irrational behavior?  Oh so Much  Harder.
See you on the streams. HCPG