#IBD Partner #AD
In the most general terms there are only two parts to trading:  1) find potential stocks to trade 2) trade aforementioned stocks.      #2, the actual trading part we have honed down to some basic strategies, tweaked out through 20 years of being traders.  We don't really have to work that hard anymore in figuring out how to trade, what strategies to use,  risk management, etc.   The #1, actually finding candidates,  is the part where effort  never stops. You always have to be out there hustling to get new candidates.
We've been tapping into MarketSmith lately to tweak out some scans — some of you old timers will know the previous version of MarketSmith (pre-2010) as Daily Graphs.     Daily Graphs, started back in 1972, was the original chart book developed by Bill O'Neil, delivered weekly to subscribers.  We started trading in the late 90s and didn't have the pleasure to have weekly chart books delivered to our houses, but  are pretty sure it didn't have the same tricks as its new MarketSmith iteration.
MarketSmith is excellent on desktop and mobile.   For desktop we often use the slide function  — we go to for example Growth 250, put the Slide function to 3 seconds and let it Play.   We always have Chart Pattern Recognition on and just need 3 seconds to figure out where we are interested in or not — if it does pique our interest we  pause play and jot down the name. Then hit play again.   You can go through 250 stocks in less than 20 minutes.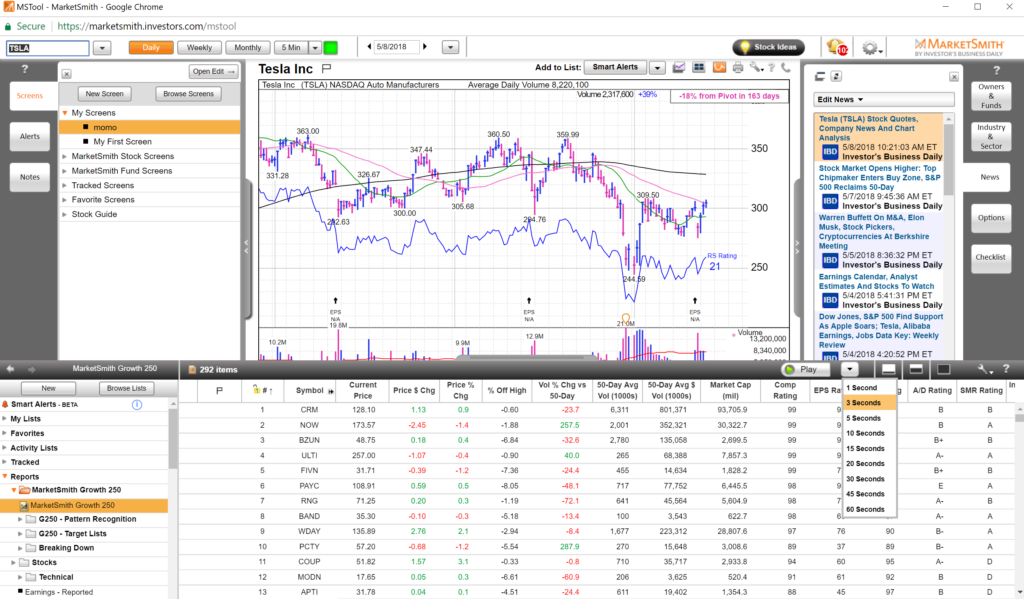 What we also like to use is the mobile version on the iPad — looks amazing on iPad Pro.  Here is what the IBD 50 on iPad looks as we scroll through names that interest us:
What we would have paid to have this type of software power when we started back in the late 90s!
And appropriate for this week as most of the big hitter earnings are now in the books, stocks that have already reported earnings with either gaps or no gaps filled filter (sorted via yes or no):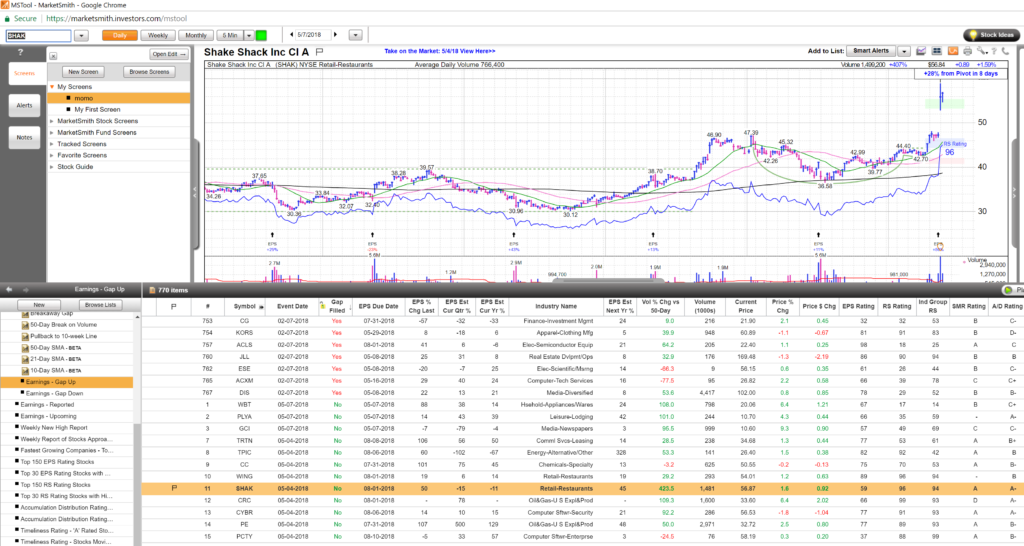 QQQ has broken the range, let's see if SPY can follow with 270 as big Kahuna.  See you out there on StockTwits and Twitter!
If you want to try out a trial of MarketSmith click here.    
#AD