Range bound market continues but we think there's a decent chance market finally breaks up out of the range. Why?  We'll explain.
On Thursday things were looking quite dark.  Market was going full speed into the 50sma weekly tests, breadth was heavy, and it looked like a trend day down.   What was at stake?  Weekly 50smas of SPY DIA XLF and SMH.   All of them held on Thursday, closed off the lows, and all followed through up on Friday.  However, that's still part of the range game –goes down with speed and you think it's all over, then holds support and bounces and you think wow new highs coming.  Emotional trip up and down.   There was one difference though that caught our interest.   QQQ.
Thanks to world stock market leader AAPL the Nasdaq finally closed over 20sma weekly — the first time in 6 weeks.  It broke the range.  If it has enough power it can lead the other indices up — we won't bet the farm on it but we are long into Monday.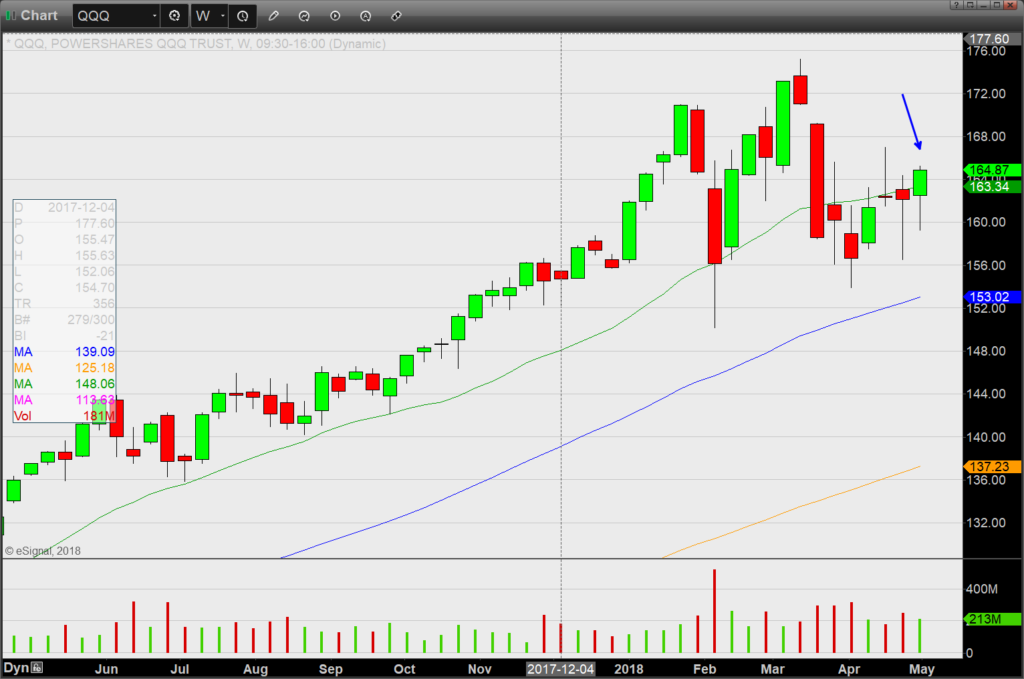 Do you recall that smack down on 50sma daily resistance on the QQQ last Thursday after AAPL earnings?  We just re-mounted 50sma daily and closed over that smack down site.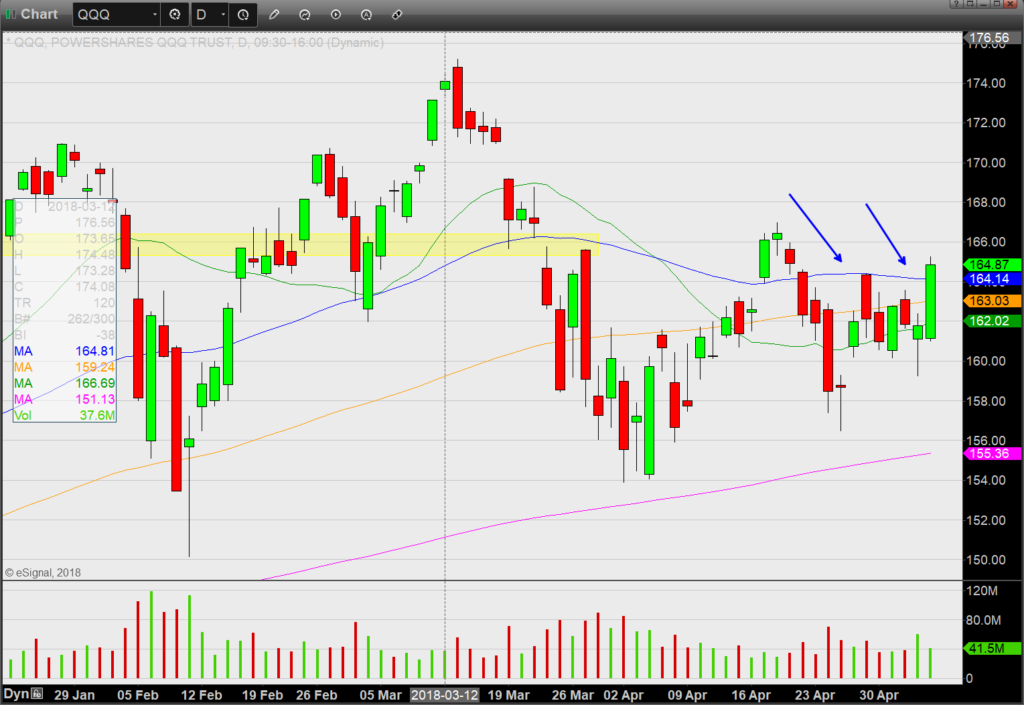 SPY held the 50sma weekly but still has to deal with the 270 resistance which is 20sma weekly, horizontal resistance, top of BB,  and trend-line resistance.   Range bound hat stays on until that goes.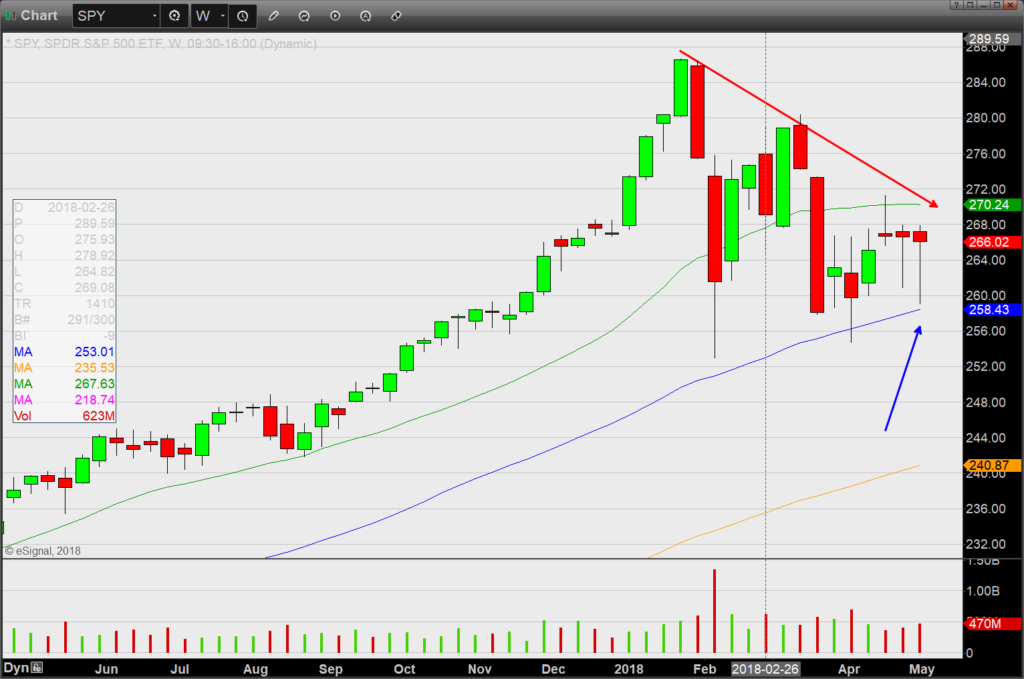 Note the lower Dev 2 BB bounce on Thursday, follow through on Friday.   Feels awesome, but it's range-bound games until 270 falls on SPY.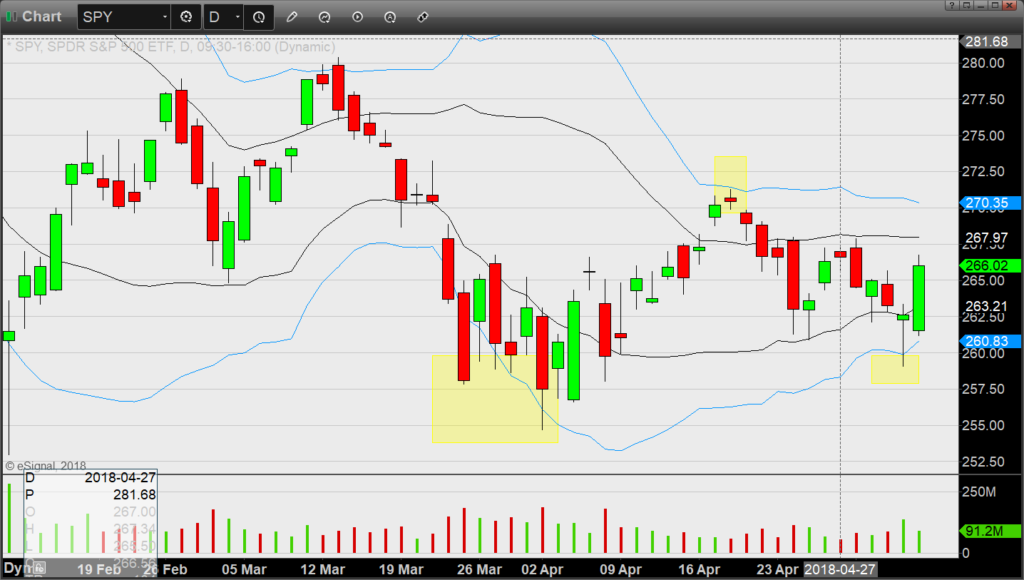 DIA held 50sma weekly — you know the drill, has to get over 250 (20sma weekly) for us to stop talking about range-bound tactics.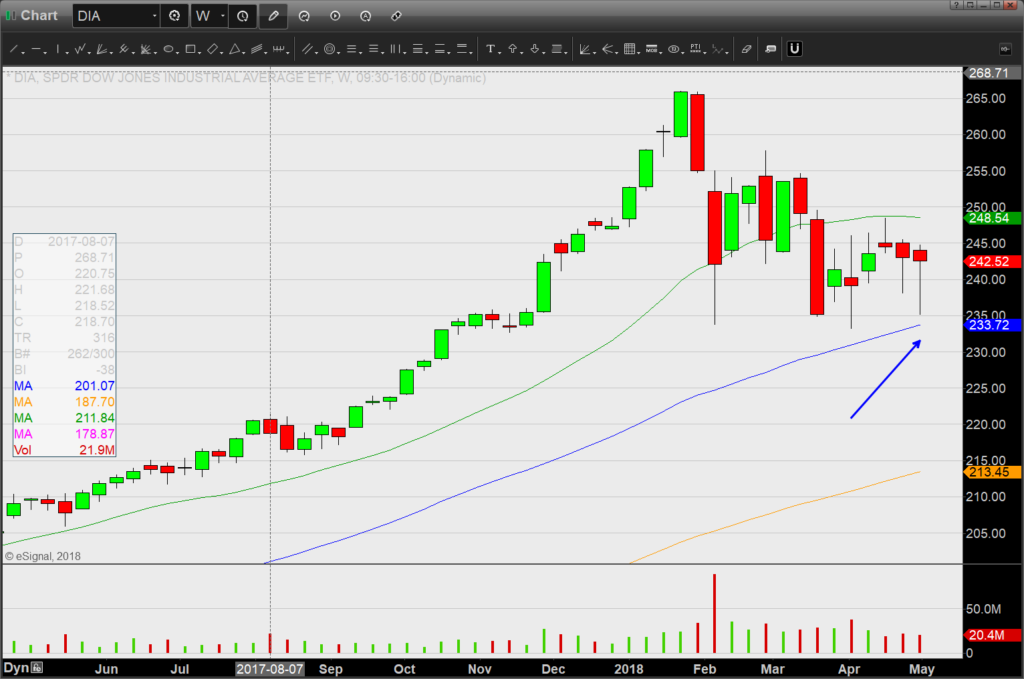 Daily look– look how 200sma buyers won the day on Thursday with a close above it and followed through on Friday.    DIA has not closed under the 200sma daily since June 2016.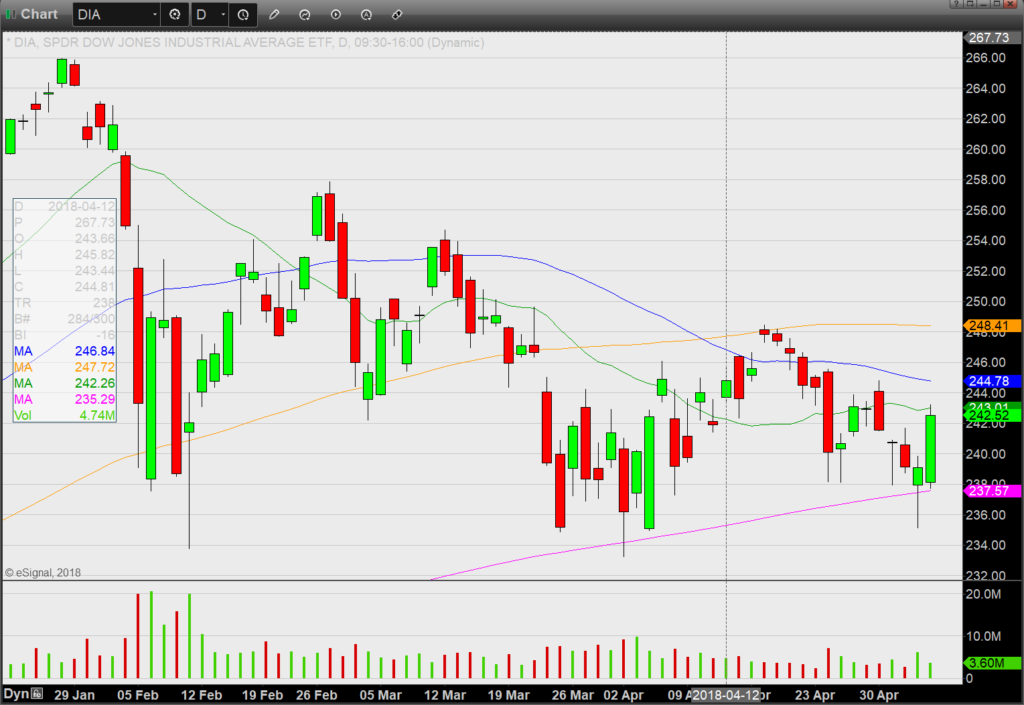 AAPL hit 50sma weekly pre earnings and it was game over for shorts– new highs on Friday.  AAPL is Playoff Lebron of the stock universe.
Glad to have it lead again — our trading universe and profits are in a happier place when AAPL leads (versus when for example utility stocks lead).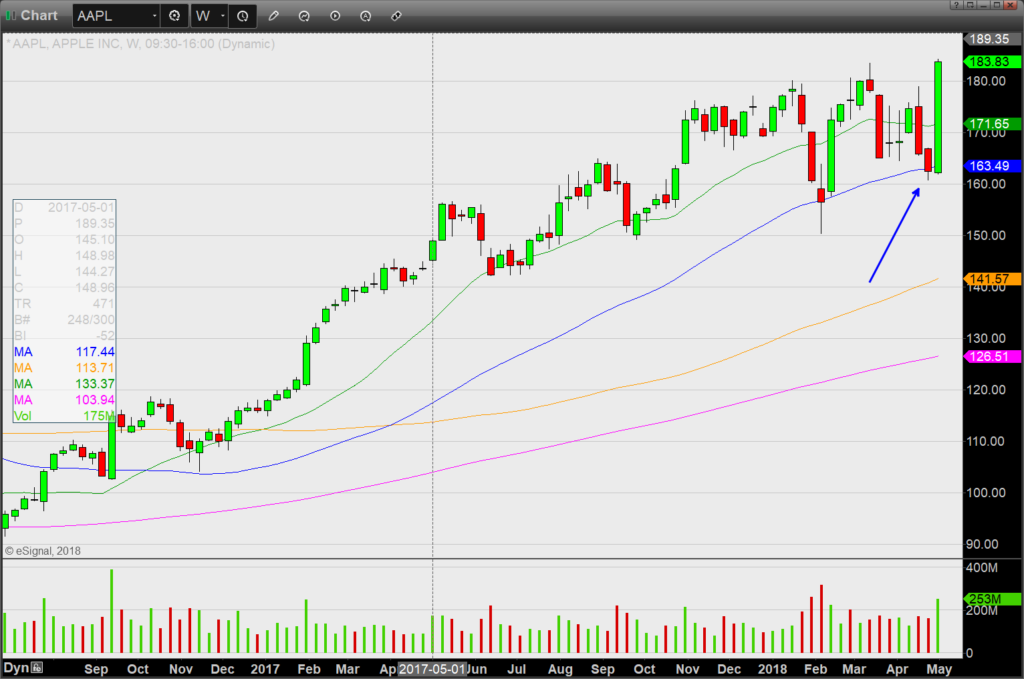 XLF we talked about in real time when it hit 50sma weekly on Thursday in regards to being a good risk/reward trade.   Good follow through on Friday — definitely not out of the woods but it could be worse.
BABA from Thursday newsletter we had on for potential long post Friday morning earnings — fantastic hold on 50sma weekly last week and follow through up this week.   As you know from our previous post, longs on good charts on good earnings can be golden trades.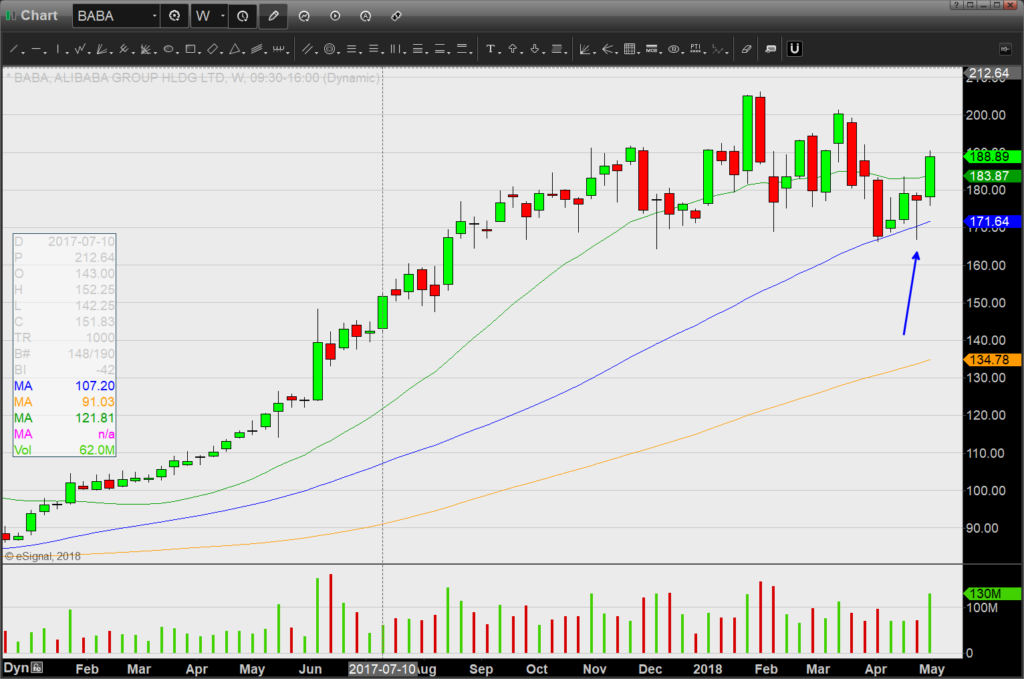 Here is daily on BABA — note how it held support on the dip on Thursday and then took off on Friday post earnings.  Beautiful.  We're long.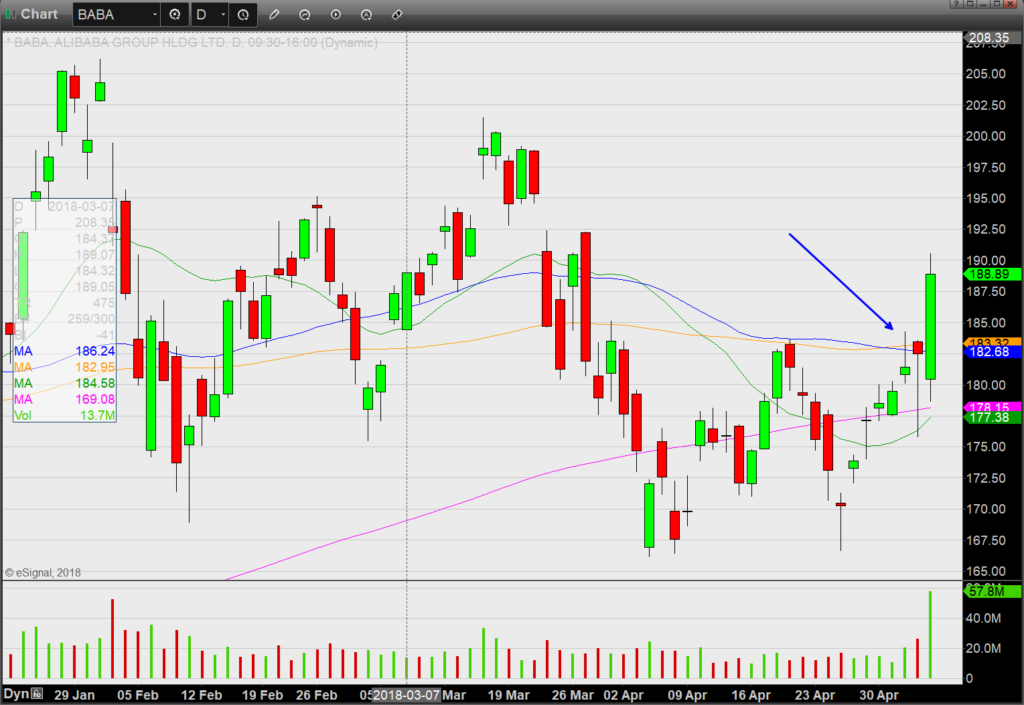 NFLX has been in our newsletter all week waiting for it to break this base as it held the 50sma daily (break of that and all bets were off).    Finally left the 50sma today — we're long and looking for follow through next week.  Nice to be in IBD company as their Swing Trade service is also long NFLX.   #IBDPARTNER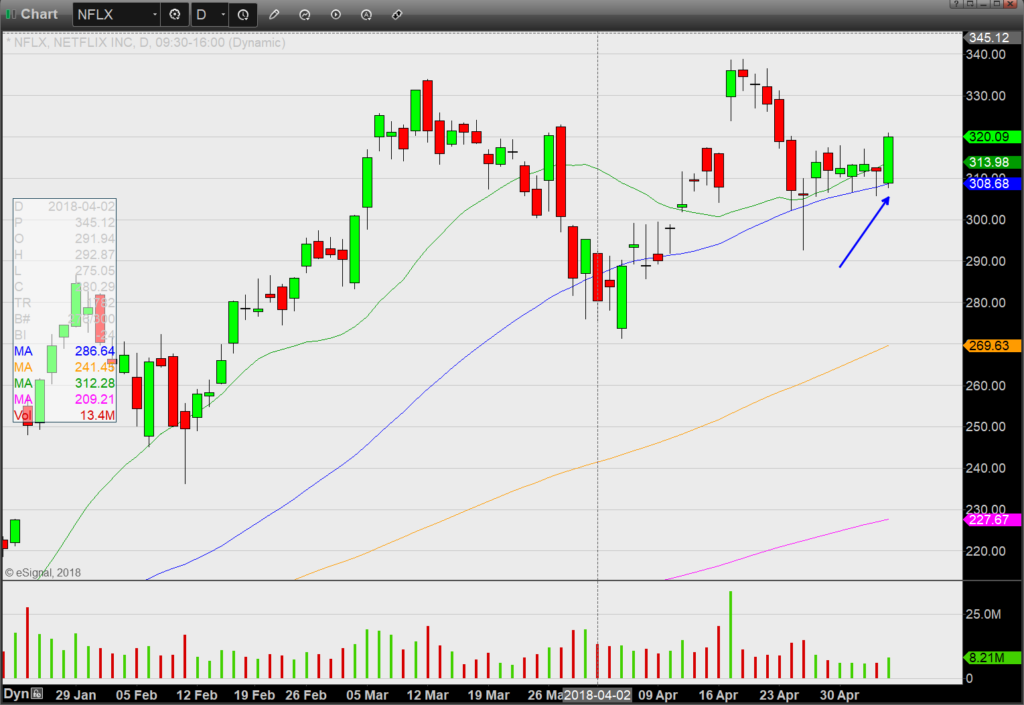 NFLX chart on MarketSmith   and as you can see Fundies pass the test too: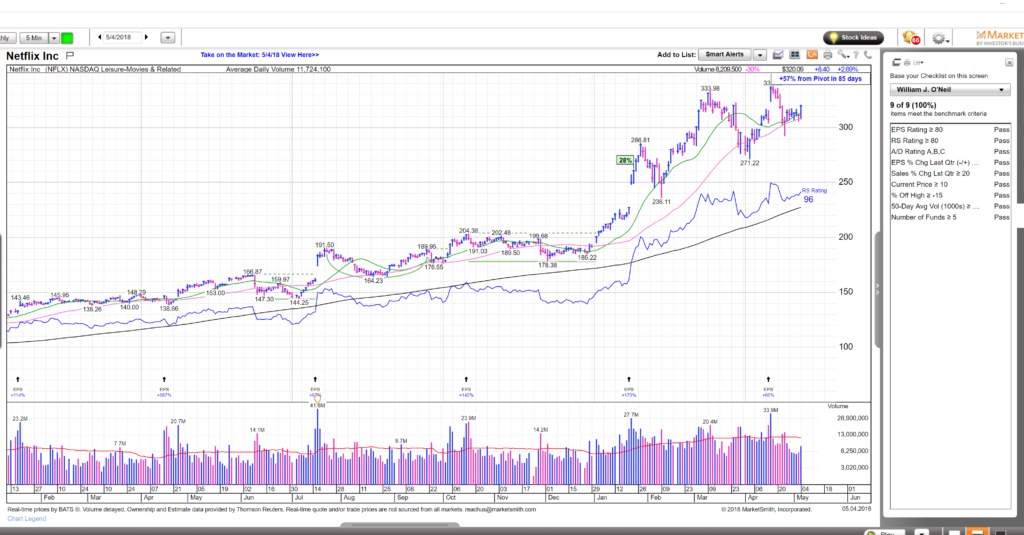 We talked about SMH potential long last week on weekly 50sma — tested it again this week and again it held with decent follow through.  Bias is long until that fat blue line breaks.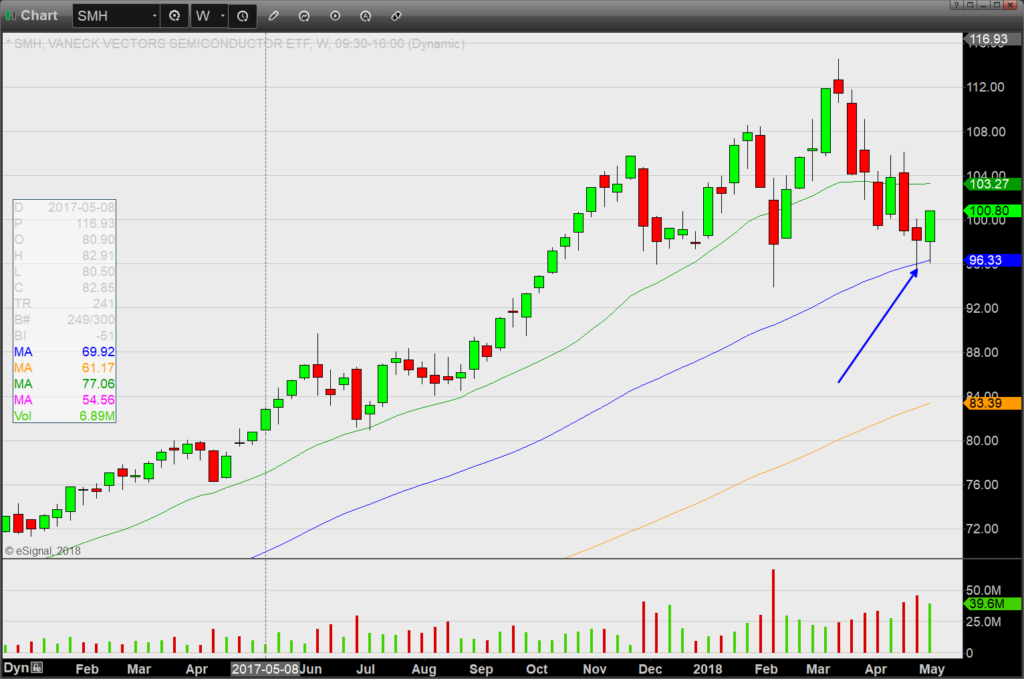 There you go– all the important things we see in the market in one post.  Enjoy your weekend.   HCPG